Head down to Trinity Bellwoods to experience Constantine's sister restaurant, La Palma. Created by executive chef Craig Harding and Alexandra Hutchinson, this fun and familiar restaurant is a great place to go for breakfast, lunch, coffee or dinner.
The interior is a light and refreshing, inspired by the art-centric Venice Beach vibe that's reflected in Toronto's very own Trinity Bellwoods park. It's the kind of place where creatives, artists, and designers frequent.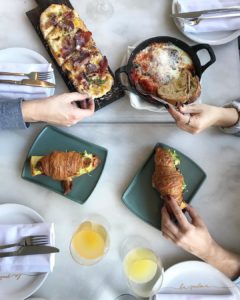 The menu features a variety of Mediterranean dishes with a healthy twist. We recommend trying the 100 layer lasagna, the cocoa pappardelle, or the Miami-style ribs.
Want to try La Palma for dinner? Give us a shout! We'd be happy to book a reservation for you or book a table by visiting the La Palma website.