Hours: Monday – Saturday 5:30 pm – 11 pm. 196 Robert Street.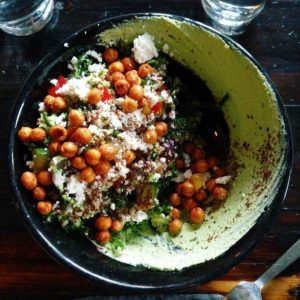 Toronto's beloved Food Dudes struck gold when they opened Rasa, their restaurant in Harbord Village. The masculine space is cozy despite the metallic finishes and concrete walls.
Rasa unapologetically impresses your taste buds. The menu here features an eclectic mix of global cuisines. Sharing plates here is highly encouraged. The Rasa experience is never rushed. The dishes are delivered from the kitchen at a perfect pace.
Must try is the chopped salad, rotating gnocchi, and the best duck breast we've tasted in a while. For a taste of it all, try the 'experience.'
Interested in trying Rasa? Let us know; we'd be happy to make a reservation for you.