You'll find every dog-friendly amenity under the sun, from walking trails to pawdicures.
Walking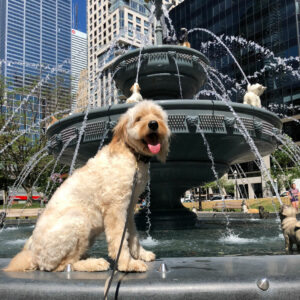 Just next to the hotel, the small but charming George Hislop Park is named for one of Canada's most influential gay rights activists. It's shady and well maintained with benches for chillin' or chatting. For more green space, head over to Queen's Park (about 10 minutes away by foot). It's a popular spot for dogs of all sizes, it sits behind the Ontario legislature and it's lined with statues dedicated to famous Ontarians. Your dog can try a different one every day.,
A little further is the University of Toronto St. George Campus. Here you'll find striking gothic architecture and ample green space along with pedestrian and cyclist friendly streets where your dog can stroll and sniff all day long. You can also walk through Yorkville and its fancy shmancy shops. Many welcome dogs, including the Holt Renfrew and the Manulife Centre.
For an extra treat, hop on the Bloor-Danforth Subway Line and head west a few stops to High Park, Toronto's largest city park and a dog-friendly green. Locals make use of its multi-use recreational trails all year long for walking, cycling, cross-country skiing and more. The park's off-leash area, affectionately named Dog Hill, is a prime destination for almost every dog owner in town. While you're there, check out the 14-hectare Grenadier Pond. You'll be hard-pressed to find a more peaceful place in town.
And no dog lover's visit to Toronto is complete without a visit to the Dog Fountain in Berczy Park near St. Lawrence Market. Featuring 27 cast-iron canines, it became an instant Instagram sensation when it was unveiled in 2017. Your dog deserves this photo op.
Grooming
If your pet needs some extra attention, a number of specialized doggie spas in the area can attend to every need, from nail care to aromatic coat treatments. Billed as Toronto's Downtown Doggie Oasis, Tail Spin offers a full menu of spa services, à la carte grooming and add-ons like breath freshening, anti-itch treatments and dematting (belly rubs are free). Tire Biter offers grooming services as well as playcare, kennel-free boarding, dog walking and cat and puppy visits.
Events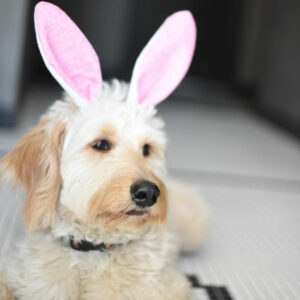 If you're of the opinion that humans shouldn't get all the fun, you can check out dog-centric events like a dog-friendly Easter egg hunt on April 10 in Coronation Park, and Woofstock on June 6 and 7. If you haven't seen this all-out celebration of dogs, you're missing out. Talent shows, contests, and a doggie fashion runway? Check. Over the years, this event has become the meeting place for Toronto dog lovers, and the momentum is growing.
Get ready to explore the city with your furry friend, starting with these doggie hotspots!